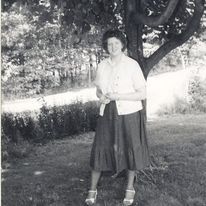 Barbara Earlene Steenbergen

February 13, 1963 - May 9, 2023

Barbara Earlene Steenbergen was born February 13, 1963, to Earl R. Snyder and Ohler Stepp Snyder in Corbin, Kentucky, and passed away Tuesday, May 9, 2023.

Earlene was preceded in death by her daughter, Stephanie Steenbergen; her grandparents: Fred and Mossie Saylor Snyder, Henry Stepp, and special mammaw, Cecil Sams Stepp.

In addition to her parents, she is survived by her husband of 43 years and 11 months, Gary L. Steenbergen; her son Christopher L. Steenbergen (Charlotte) of Danville; her grandchildren: Celika Steenbergen and Caine Steenbergen of Knoxville, Tennessee, and Ava Steenbergen and Bishop Steenbergen of Danville, Kentucky; her siblings: Roger Snyder (Tammy) of Corbin, Larry Snyder (Konnie) of London, John Snyder of Corbin, Jerry Snyder (Jennifer) of Knoxville, Tennessee, and Karen Davis (Rick) of Henryville, Indiana.

Earlene was a graduate of Laurel County High School and Southeast Kentucky Community & Technical College (in Medical Billing and Coding).  She also studied nursing at Eastern Kentucky University.  She previously worked at Baptist Regional Medical Center (Baptist Health Corbin).

Over the years, she was very active with the Boy Scouts of America and the Girl Scouts at Dorthae Pentecostal Church. She had also taught Sunday school and helped with the Dorthae Youth, starting the library. She was saved at a very young age accepting Jesus Christ as her Lord and Savior. She later became a bus driver for the church.

Funeral services will be held at 2:00 P.M. Monday, May 15, 2023, in the Hart Funeral Home Chapel with Brenda Baird and Paula Farmer officiating.  Burial will follow in Horse Creek Cemetery.  Larry Snyder, John Snyder, Jerry Snyder, Nick Snyder, Kory Snyder, Aaron Snyder, Steve Stepp, Paul Stepp, and Eugene Howard will serve as pallbearers and Boy Scouts of America Troop 457 and Gideons International Corbin Camp as honorary pallbearers.

The family will receive friends from 12 – 2 P.M. Monday at Hart Funeral Home at 1011 Master Street.

In lieu of flowers, memorial donations may be made to  Gideons International.