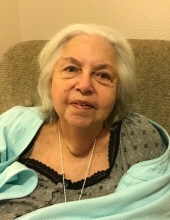 Beatrice Fern Bowlin

August 19, 1941 - October 2, 2020

Beatrice Fern Bowlin of Maineville, Ohio,  beloved wife of Donald Bowlin;  loving mother of Jeff (Terri) Bowlin, Connie (Keith) Nance, and Shawn (Jeff) Belmont;  cherished granny of eight grandchildren and seven great-grandchildren; and dear sister of Steve (Phyllis) Bingham, passed away Friday, October 2, 2020, at the age of 79.

Graveside services will be held at 1:30 P.M. on Tuesday, October 6 at Arlington Memorial Gardens, 2145 Compton RD, Cincinnati, OH 45231.

In lieu of flowers, memorial donations may be directed to the Pink Ribbon Girls or Alzheimer's Association.