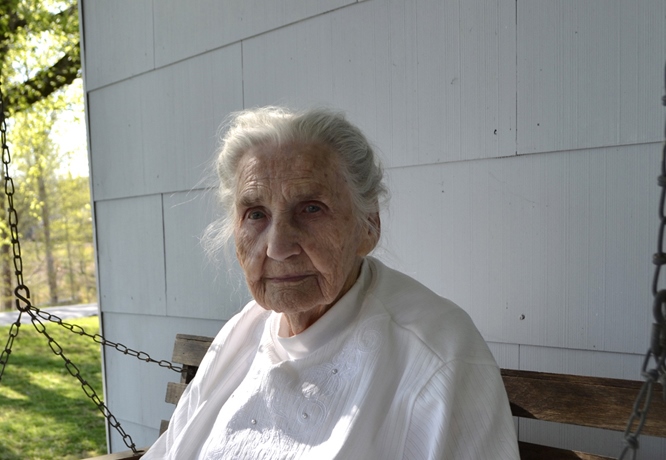 Beulah Cassidy

November 13, 1915 - March 16, 2014

Beulah Cassidy, age 98, passed away Sunday, March 16, 2014, at her home in Keavy.  Born Nov. 13, 1915, to James and Darcus Johnson of Cold Hill, she was the last surviving sibling of sixteen children.  She was preceded in death by her husband Benjamin Logan Cassidy, whom she married Dec. 23, 1934, as well as two of their four children: Charles Edmund Cassidy and Marjorie Sue Rice.

 She is survived by her daughters Audrey Jean Wilson, wife of Carl Wilson of Keavy and Mary Lou Brock, wife of Arthur Brock of Sublimity; ten grandchildren; fourteen great-grandchildren; two step great-grandchildren; and a host of nieces, nephews and friends.  

Beulah was a member of West Corbin Christian Church.  She was a homemaker, loving mother and devoted grandmother.  She was named a London Living Treasure in 2013.  A gentle spirit and an expansive heart, she will be sorely missed.  She leaves behind a strong family and a legacy of love for all who were lucky enough to have been touched by her life.

 Funeral services will be held in the Hart Funeral Home Chapel at 11:00 A.M. Wednesday, March 19, 2014, with Bro. Matt Vaught and Bro. Bobby Helton officiating.  Beulah will be laid to rest in the Locust Grove Cemetery at Keavy with grandsons and great-grandsons serving as pallbearers.

 The family of Beulah Cassidy will receive friends from 5 – 9 P.M. Tuesday at Hart Funeral Home, Inc., located at 1011 Master Street in Corbin.