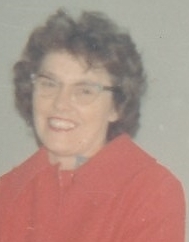 Dorothy Virginia Alsip

March 8, 1919 - July 2, 2015

Dorothy Virginia Alsip, 96, formerly of Corbin, passed away Thursday, July 2, 2015, in Utica, OH. 

Born March 8, 1919, in Corbin, Kentucky, she was the daughter of the late William Murph Petrey and Hattie Evans Petrey.   In addition to her father and mother, she was preceded in death by her husband, Glen J. Alsip, and brothers and sisters.

Survivors include three sons: Ray Alsip, Jim Alsip, and Bob Alsip; two daughters: Betty Shannon and Vicky Gailey and husband Jerry; numerous grandchildren; and a sister, Orpha Storms, to mourn her passing.

Funeral services will be held at 1:00 P.M. Wednesday, July 8, 2015, in the Hart Funeral Home Chapel with Jeffrey Alsip officiating.  Burial will follow in Resthaven Cemetery.

The family will receive friends from Noon until the funeral hour at 1:00 P.M. Wednesday at Hart Funeral Home, Inc., located at 1011 Master Street in Corbin.