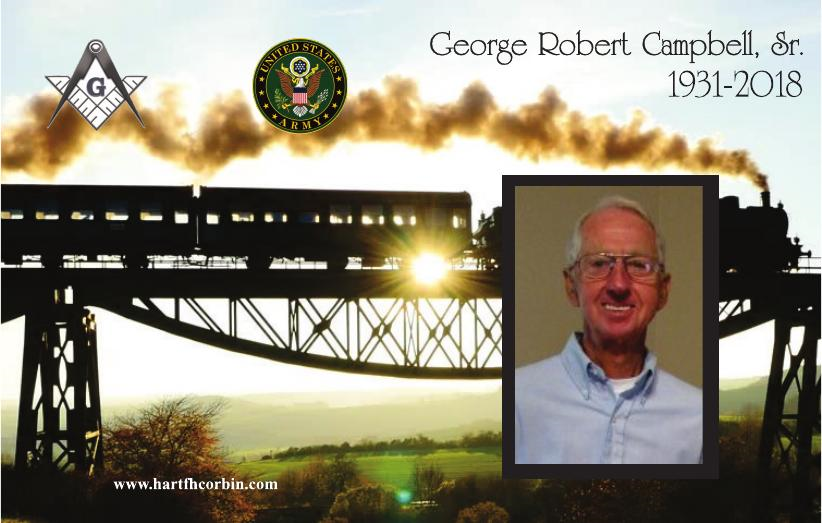 George Robert Campbell

March 29, 1931 - April 23, 2018

George Robert Campbell, Sr.,  passed away Monday, April 23,  2018,  at his home.  Born March 29, 1931, in Winchester, KY, he was the only son of the late George H. and Alza Rebecca Campbell. George grew up surrounded by love and his six sisters.

Bob, George, G.R., Dad, Daddy, Papaw, or Papper, he was a man of many names which may be why he was so adept at handing out nicknames to other people.  They may not have always been extraordinarily flattering ones, but he had a knack for creativity. This creativity often spilled over to his hobbies which included all manner of carpentry, stained glass, photography, and plastic canvas crafts.

George's creativity was held in check by his greater need for order and preciseness.  He would spend 30 minutes mowing his lawn but would then take 2 hours meticulously cleaning the mower.  This meticulousness in caring for things was due in part to his thriftiness, which at times drove his wife Betty crazy, especially in regard to the over 40-years-old orange and yellow flowered loveseat that still sits in the living room.

George never hesitated to learn something new and took classes on how to use a computer in his late 70s.  He loved the wealth of information at his fingertips and used his newfound computer skills to painstakingly research his family's genealogy.

He was a proud veteran of the U.S. Army, serving in the Korean Conflict, and a member of the Hugh Harris Masonic Lodge No. 938.  A signal supervisor for the L & N/ CSX Railroad, his work career spanned 38 years.

George faithfully served the Lord and was a deacon at Calvary Baptist Church in Corbin, Kentucky.  George used his skill set as much as possible to contribute to the church and helping others; he would build anything that was needed, including a manger that was used in a live nativity or the dozens of houses he helped construct as a volunteer for Habitat for Humanity in Miami, Florida.

In addition to his father and mother, he was preceded in death by his loving wife of 65 years, Betty Campbell; a granddaughter, Amy Elizabeth McGaha; and three sisters: Mabel Manning, Evelyn Metzger, and June Kimball.

He leaves behind his loving family: three daughters: Becky McGaha and husband Mickey, Robin O'Brien and husband Steve, and Brenda Mitchell and husband David; son, George R. Campbell, Jr.; grandchildren: Michael McGaha, Kelly McGaha, Adam O'Brien, Matthew O'Brien and wife Shelly, Paul O'Brien and wife Jess, Elizabeth Mitchell Young and husband Robert, Aaron Mitchell and wife Jenny; Kelsey Roach and husband Steven; and Hunter Campbell; 13 great grandchildren,Sidney McGaha, Morgan McGaha, Josiah Dowdy, Judah Dowdy, Caleb O'Brien, Ezra O'Brien, Bear O'Brien, Troy O'Brien, Abi O'Brien, Liam O'Brien, Kaelin O'Brien, Brenlee Young and Damian Mitchell; and three sisters: Anna Lou Krull, Cymantha M. True, and Phyllis S. Price; as well as other relatives and numerous friends.  He will be greatly missed and deeply mourned.

Funeral services will be held at 1:00 P.M. Saturday, April 28, 2018, in the Hart Funeral Home Chapel with Pastor Kevin Roach officiating.  Burial will follow in Cumberland Memorial Gardens at Lily. 

The family will receive friends from 6 – 8 P.M. Friday at Hart Funeral Home, located at 1011 Master Street in Corbin.   

In lieu of flowers, contributions are suggested to the Calvary Baptist Church Building Fund 96 Calvary Church Road Corbin, KY 40701.