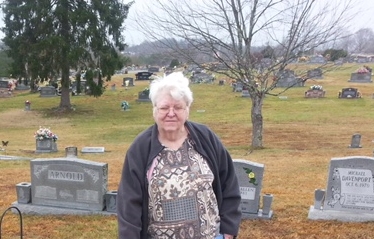 Geraldine Karr Allen

June 24, 1943 - January 25, 2015

Posted on January 26, 2015 at 10:00 PM

•

4 Comments

Geraldine Allen, age 71, of Keavy, passed away Sunday, January 25, 2015, at Baptist Health Corbin.

She was preceded in death by her parents, Paris and Becky Karr; 11 brothers and sisters; her husband, James Allen; a daughter, Sue Davenport, 1 grandson, Joshua Lester.

Survivors include her children:  Donnie (Machalla) Davenport of Indianapolis, IN, Kay Lester, of Keavy, Lisa Karr of Keavy, John Foster, Keavy, Mike Davenport of Keavy; grandchildren:  Carrie (Marty) Lineberry, Michelle (Eric) Trudo, Kim Ault, Randy (Jillin) Lester, Eddie Burchfield, Katelynn Lester, Jaelynn Lester, Jennifer (Josh) Day and Jacob (Danielle) Van; 35 great-grandchildren; and two sisters: Marlene (Roger) Redding and Dalphine Karr.  She leaves behind a very special friend, Kenny LaMaster, other family members and many friends, all to mourn her passing.

Funeral services will be conducted at 3:00 P.M. Wednesday, January 28, 2015, in the Hart Funeral Home Chapel with Pastor Tommy Lanham officiating.  Burial will follow in Locust Grove Cemetery.

The family will receive friends from 6 – 8 P.M. Tuesday at Hart Funeral Home, Inc., located at 1011 Master Street in Corbin.