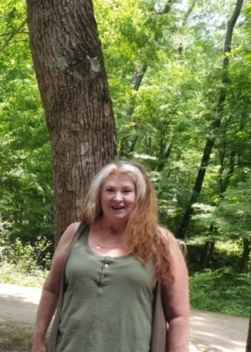 Glenda Sue Young

September 28, 1960 - September 7, 2021

Posted on September 9, 2021 at 12:03 PM

•

1 Comment

Born September 28, 1960, in Hyden, Kentucky, Glenda Sue Young of Williamsburg, Kentucky, passed away Tuesday, September 7, 2021, at Baptist Health Hospital in Corbin, Kentucky.  She lived to be 60 years, 11 months, and 9 days of age.

Glenda was a beloved daughter, wife, mother, grandmother, sister, niece, and friend.  When well enough, she attended 2nd Street Church of God in Williamsburg.   Although her first priority was taking care of her family, she also had worked for Comprehensive Care as a caregiver and at the Whitley County Detention Center as a deputy jailer.

She was preceded in death by her grandfather, George Hall; grandmother, Edna Asher; grandfather, Charlie Brock; grandmother, Paralee Brock; aunt, Ruby Jean Hall; aunt, Lucy Asher; father, Cecil Brock; and uncle, George Hall, Jr.

Highly creative, Glenda enjoyed such things as crafts, decorating, and embroidery.  Moreover, she was especially passionate about flower gardening and always wanted to share the beauty of her flowers with anyone who visited.

She leaves behind her loving family: her husband, Arnold Young; mother, Irene Townley and husband Robert Lynn Townley; son, Darren Napier; son; Cecil Napier and wife Joie; son, Gene Young; step-daughters: Victoria Irwin and Misty Chitwood; grandchildren: Destinee Caldwell, Sierra Napier, Noelle Napier, Lexie Chaves, Kimberly Davis, Haley Chaves, Frankie Irwin, and Brianna Irwin; brother, George Garreth Helton; sister, Elizabeth Gene Holland; brother, Dwayne Keith Helton; sister, Claudia Christine Townley; special aunts: Drenda Vijuk and Mandy Sue Brock; aunt, Christine Lomax and husband Paul; and uncle, Bill Hall and wife Shondia.   She is also survived by other relatives and numerous friends.

Funeral services will be held at 11:00 A.M. Saturday, September 11, 2021, in the Hart Funeral Home Chapel.  Jerome Leach will be the officiating minister. Burial will follow in Youngs Chapel Cemetery.

The family will receive friends from 6 – 8 P.M. Friday, September 10, 2021, at Hart Funeral Home, located at 1011 Master Street in Corbin.