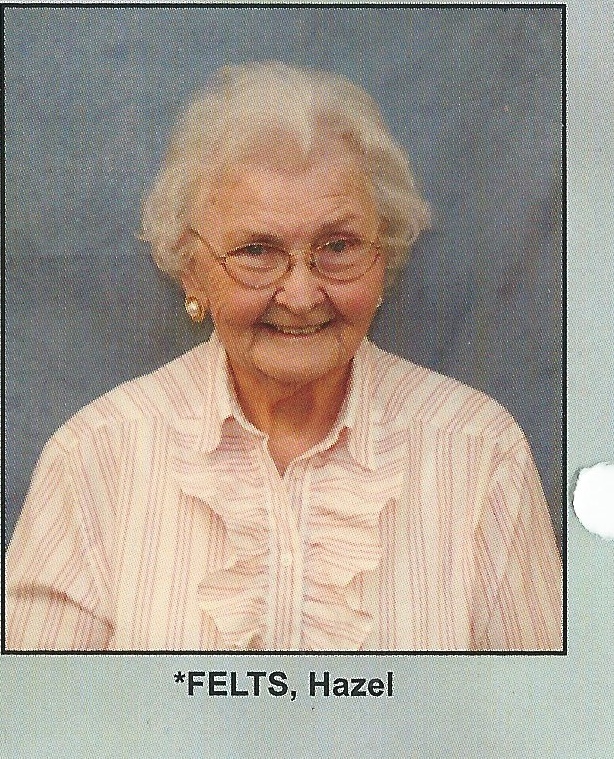 Hazel B. Felts

July 25, 1925 - October 10, 2015

Posted on October 12, 2015 at 3:56 PM

•

0 Comments

Hazel B. Felts, 90, passed away Sunday, October 11, 2015.  She was a member of Dorthae Pentecostal Church.

Born July 25, 1925, in Hazel Patch (Harlan County), KY, she was the daughter of the late George and Elizabeth Hill.

In addition to her father and mother, she was preceded in death by her first husband, Tipton A. Wright and her second husband, Earnest Felts; by two brothers: Robert Hill and Monroe Hill; and by two sisters: Bessie Hill and Kathleen Epson.

She is survived by four children: Custer Lee Wright and wife Donna of Harrodsburg, KY, June Earls and husband Wayne of Harrodsburg, Dewey F. Wright of Romulus, Michigan, and Mack N. Wright of Corbin; by several grandchildren and great grandchildren, nieces and nephews, other relatives, and friends to mourn her passing.

Funeral services will be held at 1:00 P.M. Tuesday, October 13, 2015, at The Carpenter's Christian Church 1340 127 By-Pass Harrodsburg, KY 40330.  Bro. Greg Warren will officiate.  Burial will follow at 5:00 P.M. in Pine Hill Cemetery Corbin, KY.

The family will receive friends at the church from 11:00 A.M. until the funeral hour at 1:00 P.M.

Hart Funeral Home, Inc., is in charge of all arrangements.