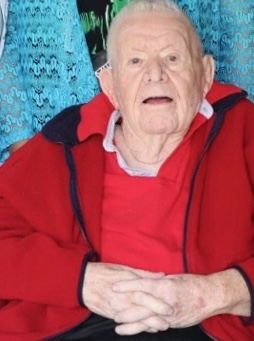 Homer Clayton Farmer

August 13, 1929 - November 22, 2018

Posted on November 23, 2018 at 10:55 PM

•

1 Comment

Homer Clayton Farmer, 89, of Corbin passed away Thursday, November 22, 2018, at his home.  Born August 13, 1929, in Gray, KY, he was the son of the late Joe and Myrtle Farmer.

He was a U.S. Army veteran and worked for CSX Railroad before his retirement.  He was also a member of Poplar Grove Baptist Church.

In addition to his father and mother, he was preceded in death by his wife, Maude June Harrison Farmer; a sister, Mary Reba Sasser; and a niece, Judy A. Patterson.

He leaves behind a daughter, Vicki Walker Gilbert and husband Sie; two grandsons: Ben Gilbert and wife Karen and David Gilbert; great grandson, Jack Gilbert; two nieces: Wanda Sue Simpson and husband Bill and Karen White and husband Anthony; two nephews: Michael Harrison and Ricky Harrison; great nieces: Christy McBurney and husband Cliff, Kimberly Simpson, and Teresa Patterson; great great niece: Casie McBurney; brother-in-law, Richard "Dickie" Harrison, and two sisters-in-law: Mary Ruth Harrison Jones and husband Dallas and Tommie Jean Harrison Owens and husband Richard.  He is also survived by other relatives and numerous friends.  He will be deeply missed.

Special thanks are extended to many caregivers, especially to Clayton's great nieces, Kimberly Simpson and Christy McBurney, for their excellent care that honored Clayton's wishes to remain in his home until his passing. 

Funeral services will be held at 2:00 P.M. Sunday, November 25, 2018, in the Hart Funeral Home Chapel with Rev. Bobby Joe Eaton and Rev. Buster Patterson officiating.  Burial will follow in Gray Cemetery.

The family will receive friends from 12 – 2 P.M. Sunday at Hart Funeral Home, located at 1011 Master Street in Corbin.