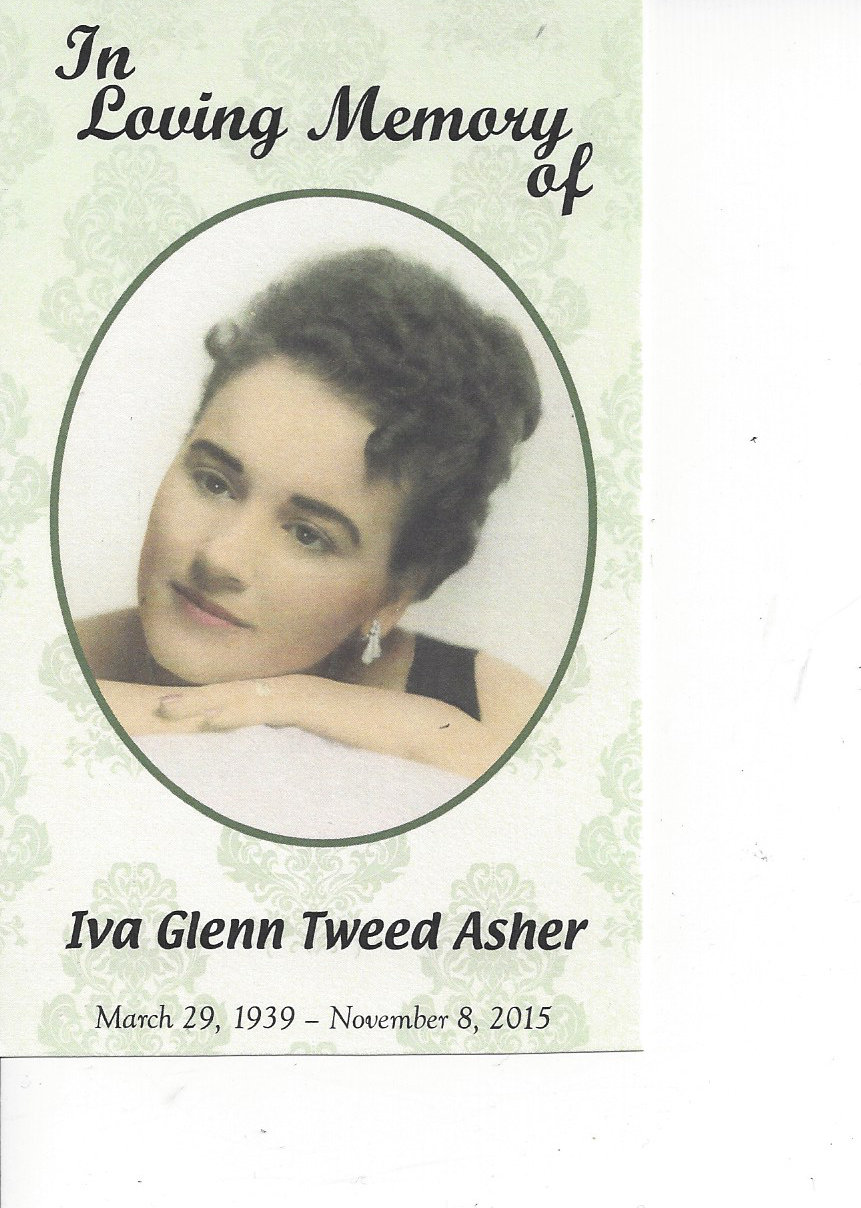 Iva Glenn Asher

March 29, 1939 - November 8, 2015

Posted on November 11, 2015 at 5:28 PM

•

1 Comment

Iva Glenn Tweed Asher, 76, of Corbin passed away Sunday, November 8, 2015.  Born March 29, 1939, in White Rock, North Carolina, she was the daughter of the late William Togo Tweed and Verdie Lee Ponder Tweed. 

In addition to her father and mother, she was preceded in death by her grandfather, William Marcy Tweed (Boss Tweed), one son: Robert Glenn Asher; three brothers: Robert L. Tweed, William Marcy Tweed III, and James Tweed; a nephew (raised as a son), Robert Charles Durham, and her beloved granddaughter, Ashley Lynn Petrey Walters.

Survivors include her loving husband of almost 57 years, Robert Ralph Asher; one daughter, Carole Lynn Asher (Petrey, Elliott); four nephews raised as sons: James T. Durham, Shelby Dwight Durham, Jeffrey Allen Durham, and William Frank Durham; granddaughters: Latessa Rose Petrey and Kalley Ann Petrey; three great granddaughters: Chelbie Rivae' Petrey, Alexia Paige Petrey, and Kyrie Grace Walters;one sister, Betty Tweed Mosley of Hyden, KY; sisters-in-law: Elma (Susie) Tweed, Morrow, GA,  Ann Tweed, Chatsworth, GA, Norma Jean Clemmons, Corbin, KY, Wanda Joyce Chapel, Stockbridge, GA, Joanne Thomas and husband Larry, Corbin, KY, and Edith Carol Ely and husband Eddie, Corbin, KY; and one brother-in-law (like a son), Shelby Wayne Asher and wife Tina.  Miss Iva also leaves behind 28 nephews and nieces, 57 great nephews and nieces, and seven great-great nephews and niece, and many other family and friends whom she loved dearly.

Funeral services will be held at 1:00 P.M. Wednesday, November 11, 2015, in the Hart Funeral Home Chapel, with Bro. Larry Thomas and Rev. Leonard Siler officiating.  Burial will follow in Locust Grove Cemetery.

The family will receive friends from 10:00 A.M. until the funeral hour at 1:00 P.M. at Hart Funeral Home, Inc., located at 1011 Master Street in Corbin, KY 40701.