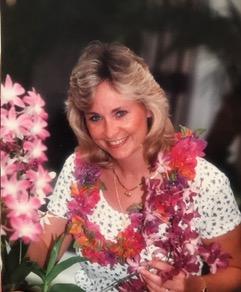 Linda Gail Poynter Lewis

June 8, 1957 - May 25, 2019

On May 25, 2019, Linda Gail Poynter Lewis passed away suddenly in her home. Her husband, Dennis Neal Lewis, passed away only four months and three days prior. Her daughters said that their mother always said she would be right behind him if anything ever happened to him, and they believe she died of a broken heart.

Linda was born in Cincinnati, OH, on June 8, 1957. She lived there a short time before moving to Keavy, KY. It was in Keavy that she met Dennis at a wedding at Locust Grove Church. They were married in July 1976 and immediately started a family. The two of them worked hard to provide a good life for their three girls. They took turns putting each other through school until they both became Registered Nurses.

They moved their family to Port Orange, FL, in the summer of 1989. They became very successful very quickly. They thoroughly enjoyed spoiling each other as well as their girls.

Linda is survived by her three daughters: Heather Lynn Lewis (Thomas) Albany, Port Orange, FL; Kristy Lea Lewis, Edgewater, FL; and Amy Nicole (Tommy) Jones, Corbin, KY. She is also survived by seven grandchildren: Ashley Lynn Albany, 21; Brandon Neal Lewis, 20; Joshua Matthew Lewis, 17, all from Port Orange, FL; Tyler Nicolas Lewis, 16, Annabelle Jack-Lyn Jones, 15; Thomas Andrew Jones, 13, of Corbin, KY; Cierra Marie Rannings, 11, of Edgewater, FL; by her sister, Doris Lee Trett, 63, of Pikeville, KY; and by two brothers: James Dean Mosley, 44, of Keavy, KY; and Jerry Ray Mosley, 43, of Corbin, KY, as well as many cousins, nieces, nephews, other relatives, and numerous friends that will mourn her passing. She will be deeply missed by all.

Her family will host a viewing on Saturday, June 1, 2019, at Hart Funeral Home in Corbin, with immediate family from 5 – 6 P.M. and open visitation from 6 – 8 P.M. Her funeral service will be at 3 P.M. Sunday, June 2, 2019, at Locust Grove Christian Church with Bro. Rob Hale officiating. Burial will follow in Locust Grove Cemetery at Keavy. Immediately following the ceremony, a reception will be held at Locust Grove Christian Church. Everyone is welcome to attend.

Pallbearers will be Brandon Lewis, Joshua Lewis, Tyler Lewis, Thomas Jones, James Mosely, and Ancil Skidmore. Honorary pallbearers will be Ashley Albany, Annabelle Jones, and Cierra Rannings.