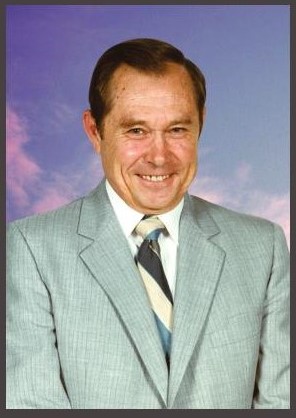 Louie Martin

July 7, 1929 - November 3, 2022

Posted on November 4, 2022 at 4:07 PM

•

9 Comments

There will be a time for mourning, but first we want you to join us in celebrating the life of Louie Martin.

On Thursday, November 3, 2022, Louie Martin, husband and father of two and grandfather of three, passed away peacefully at the age of 93.  The only son of the late John David and Elizabeth Martin, he was born on July 7, 1929, in Letcher County, KY.

At an early age, he learned to appreciate the value of hard work.  After completing eighth grade in a two-room school, he attended Stuart Robinson School, where he milked cows and performed other chores to pay for his room and board.  At twelve, he delivered the mail from the back of a mule. In the winter his denim jeans would freeze solid as the mule completed its route. He made 25 cents a day. As a teenager, he worked in the coal mines during his summer breaks.  He also taught in a two-room school which put him on his ultimate career path.

He pursued a college education on the GI Bill which he earned after serving his country in the Korean War. He held degrees from Alice Lloyd College, Morehead State University, and Indiana University.

After college, he began his career in education as a teacher and guidance counselor at Fleming-Neon High School.  It was during his time at Fleming-Neon that he met his beloved wife of 61 years, Della Deloyse Jones, who survives him, and whom he fondly called " Blossom."

After working at Fleming-Neon High School, he took a position with the Kentucky State Department of Education as a guidance supervisor. In 1966, he took a position as principal at Corbin High School, and he and Della made Corbin, KY, their new home.  A few years later, he was appointed superintendent of Corbin Independent Schools.  He cared very deeply about the school system; he funneled every penny he could toward hiring additional teachers and giving the teachers the resources they needed.  He put students first, teachers second, and the community third. He retired from the Corbin City School System in 1992.     Then he continued to work as superintendent for several school systems and the state department again.

While working for the Corbin City School System, Louie was very pleased with the success of many of the projects in which he was involved, none more so than the accomplishments achieved for the advancement of women. Louie was proud to serve as a board member and later president of the Kentucky High School Athletics Association in the early 1970's.  During his tenure as president, he advocated for Title IX and was a champion for equitable treatment of girls' basketball in Kentucky which allowed girls' basketball to join the KHSAA.

Louie also served on the boards of the Eastern Kentucky University – Corbin Campus and SEKRI in Corbin.  He was a Kentucky Colonel and a member of the Lions Club and the Optimist Club.

After Louie finally retired, he remained active. To stay fit, he walked several miles every day at the Princess McBurney Recreation Center. He and Della took several trips and enjoyed visiting such places as Florida (many times in his Volkswagen Beetle!), New Orleans, New England, Charleston, Mackinac Island, New York City, Branson, Las Vegas and San Diego.  Louie never met a stranger, and he made many friends on their trips.  When not traveling or at home in Corbin, he could often be found at his mountain getaway near Gatlinburg.

Louie enjoyed a good cup of coffee with a slice of cake or pie.  He found peace and comfort in bluegrass and gospel music.  He also enjoyed watching Barney Fife and the Lawrence Welk show. He loved animals, especially dogs and few people knew he could bark just like them. He found joy in playing with "my girl," his brown dog, a Havanese named Maggie. He never confessed to being a Kentucky Wildcats fan. However, since he always knew how their season was going, he clearly was one.  His yardstick for a restaurant was whether or not it had "good food at a good price."  But what he enjoyed more than anything was people, and if you ever met Louie you felt the warmth of his friendship right away.  As a Christian, Louie enjoyed fellowship at various churches while living in Corbin finding the good Word was a constant, regardless of denomination.

Louie is survived by his wife, Della (Deloyse Jones) Martin; his daughter, Lysbeth Martin of Knoxville, TN; his son, David Martin of Corbin, KY; his sisters, Lenora Watts of Whitesburg, KY, and Ritter Cook (Charles) of London, KY; his grandsons, John David Martin II and Nathanael Blake Martin, both of Knoxville, TN, and Seth Jennings Martin of Corbin, KY; dozens of nieces and nephews; great-nieces and great-nephews; as well as scores of friends.

Services for Louie will be held at 2:00 P.M. Sunday, November 6, 2022, in the Hart Funeral Home Chapel with Dr. Max Cox officiating.  Burial will follow in Cumberland Memorial Gardens at Lily, Kentucky.

The family will receive friends from 5 – 7 P.M. Saturday at Hart Funeral Home, located at 1011 Master Street in Corbin.