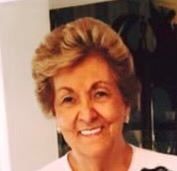 Naomi Esther Lowe

March 14, 1941 - December 17, 2022

Posted on December 18, 2022 at 8:28 PM

•

9 Comments

Naomi Esther Lowe, 81, of Corbin passed away Saturday, December 17, 2022.  Born March 14, 1941, in Lily, Kentucky, she was the daughter of the late John L. and Helen Champlin.

In addition to her father and mother, she was preceded in death by her brother, John L. Champlin, Jr.; sister, Vaddie Smith; sister, Beatrice Raleigh; brother, Alvin Champlin; and brother, Oba Champlin.

Naomi was a member of Central Baptist Church and of the Care and Share Sunday School class.  Over the years she enjoyed singing in the adult choir.  She also enjoyed investing in youth at Central Baptist Church and working with the youth choirs.  She enjoyed traveling with her husband Laymon to different destinations.  One of her favorite vacations was the Disney Cruise.  Mostly, her special joy came from spending time with her grandchildren and great-grandchildren.

Naomi leaves behind her beloved family: her loving husband of 63 years, Laymon E. Lowe; son, David Lowe (Theresa); son, Tim Lowe (Lana); son, Joel Lowe (Taruah); son, Steven Lowe (Kelly); eight grandchildren: Daniel Lowe (Lindsay), Aaron Lowe (Elizabeth), Jenay Hayes (Shawn), Joseph Lowe (Sarah), John Lowe, Michelle Snell (Josh), Kenton Lowe, and Brayden Lowe; 11 great-grandchildren; and three siblings: Omega Sue Berk (Del), Clyde Champlin (Bobbie), and Eva Mitchell.  She is also survived by other relatives and numerous friends.

Naomi was dearly loved and will be sorely missed.

Funeral services will be held at 2:00 P.M. Wednesday, December 21, 2022, at Central Baptist Church with Pastor Josh Pollitt and Tim Lowe officiating.  A private burial will follow in Cumberland Memorial Gardens at Lily.

The family will receive friends from 11:30 A.M. – 2:00 P.M. Wednesday at Central Baptist Church.

Because of her great love for music, in lieu of flowers, donations may be made to the music ministry of Central Baptist Church in honor of Naomi.  Donations may be sent as a memorial to Central Baptist Church, 201 W. 4th Street Corbin, KY 40701.

Hart Funeral Home is handling the arrangements.