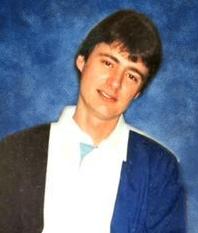 Robert Wayne Hammons

April 18, 1967 - July 3, 2021

Robert Wayne Hammons, 54, of Heidrick, Kentucky, passed away Saturday, July 3, 2021, at the University of Kentucky Hospital. Born April 18, 1967, he was the son of the late Ray Hammons and Wanda Bond Hammons.

Robert worked for 32 ½ years at Little Caesars Pizza Company in Barbourville, Kentucky.

In addition to his father and mother, he was preceded in death by his brother, Dennis Hammons; niece, Autumn Tye; and sister, Loretta Hubbard.

He leaves behind his son, Robert Eulas Wayne Hammons of Laurel County and four sisters: Norma Lawson, Sandy Helton, Teresa and Lonnie Davis, and Patricia and Steve Rice, all of Knox County; and four brothers: Dale and Jennifer Harber, Scotty Hammons, Fred Messer, and Danny Hubbard, Sr., all of Knox County. He is also survived by a host of nieces, nephews, other relatives, two special friends: Matt Kauffman and Larry Engle, as well as many other ffriends to mourn his passing.

Funeral services will be held at 1:00 P.M. Saturday, July 10, 2021, in the Hart Funeral Home Chapel with Bro. Mike Griffis officiating. Burial will follow in Rosenwald Cemetery at Barbourville, Kentucky, with Robert Hammons, Danny Hubbard, Jr., Danny Hubbard, Sr., Alvin Hubbard, Scotty Hammons, and Fred Messer serving as pallbearers, and Dale Harber as honorary pallbearer.

The family will receive friends from 5 – 8 P.M. Friday at Hart Funeral Home, located at 1011 Master Street in Corbin.