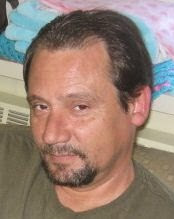 Ronald "Ronnie" Lee Prewitt, Jr.

April 30, 1967 - November 13, 2014

Posted on November 13, 2014 at 11:04 PM

•

3 Comments

Ronald "Ronnie" Lee Prewitt, Jr., age 47, passed away Thursday, November 13, 2014, at his home.  Affectionately called "Sam" by his co-workers, he had worked at CTA Acoustics, Inc. for 27 years.

 He was preceded in death by his grandparents, Lee and Beneda Prewitt and Rev. Lonzo and Nola Sharp.

 Survivors include his fiancée  Sandie Taylor; his father Ronald (Janet) Prewitt; mother Francis Adkins; sister, Tracy (Terence) Broughton; two sons: Travis McCreary, Shelybyville, KY, Dylan Taylor, Corbin; two daughters, Robin Lawson, Corbin, Tara (Derrick) Young, Corbin; 4 granddaughters: Brianna Lawson, Braleigh Jackson, Dazlan Young, Adalee McCreary; 3 grandsons: Brayden Jackson, Billy Jackson, Brennon Jackson; 2 nieces, Terron Broughton and Trinity Broughton.  He leaves behind other family members and many friends, all to mourn his passing.

 Funeral services will be conducted at 2:00 P.M. Sunday, November 16, 2014, in the Hart Funeral Home Chapel with Rev. Terry Broughton and Rev. Raymond Hampton officiating.  Burial will follow in the Prewitt Family Cemetery in Keavy.

 The family will receive friends from 6-8 Saturday, November 15, 2014, at the Hart Funeral Home, located at 1011 Master St., Corbin.