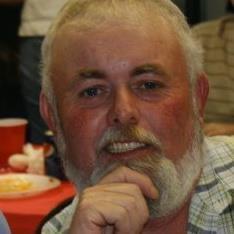 Stephen Ellis Wells

April 29, 1958 - July 6, 2021

Stephen Ellis Wells, 63, of Keavy passed away Monday, July 5, 2021. Born April 29, 1958, he was the son of the late Ellis Wells and Lottie Williams Wells.

Stephen was an avid fisherman and hunter. Some of his related outdoor sports took him to Florida, Montana, Colorado, and Wyoming.

In addition to his beloved father and mother, Stephen was preceded in death by his sister, Virginia "Gennie" Ann Eaton; two brothers-in-law: William "Bill" Eaton and Trulin Williams; great nephew, Tucker Ellis Williams and Tucker's mother, Jennifer Williams.

He leaves behind two sisters: Debbie Williams and Judy Hicks Wells; five nephews: James Eaton (Jennifer), Michael Williams (Tammy), Gerald Williams (Misty), Steve Williams, and Mackenzie Hicks (Blake); three great nephews: Austin Eaton, Jackson Eaton, and Greyson Hicks; and four great nieces: Emma Williams, Michaela Williams, Jenna Eaton, and Chloe Smith.

A celebration of life will be held at 11:00 A.M. Friday, July 9, 2021, in the Hart Funeral Home Chapel with Bro. Rob Hale officiating. Burial will follow in Wells Cemetery with James Eaton, Austin Eaton, Michael Williams, Gerald Williams, Steve Williams, and Carl Wells serving as pallbearers.

The family will receive friends from 6 – 8 P.M. Thursday at Hart Funeral Home, located at 1011 Master Street in Corbin.

In lieu of flowers, contributions in Steve's name can be sent to the Wells Family Cemetery Fund c/o Jewell Wells Baker 65 Maple Grove Road Orlando, KY 40460.

The Wells family welcomes everyone to a gathering of memories and a meal following the graveside services.  Contact information: Judy Wells 606-521-4224 1300 7th Street Road Corbin, KY 40701.