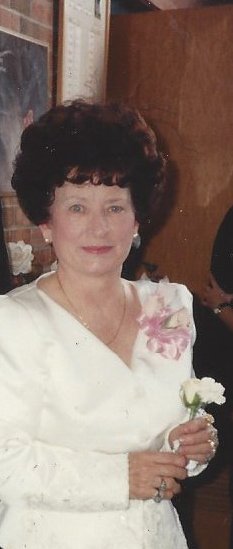 Violet Ailene Grega

February 2, 1932 - December 8, 2020

Posted on December 17, 2020 at 11:38 PM

•

4 Comments

Violet Ailene Grega, 88, of Corbin entered into eternal rest Tuesday, December 8, 2020, at Continue Care Hospital in Corbin, KY. Born February 2, 1932, in Appalachia, VA, she was the daughter of the late Jeanette and Charles Stepp.

She was united in marriage with Alexander James Grega on June 21, 1952, in Lynch, KY.

Ailene worked many years for Bell South Telephone Company as a telephone operator and was a retiree of Certainteed/CTA Acoustics. She was a member of Sacred Heart Catholic Church.  She enjoyed dancing, cooking, gardening, serving her community and church, but most of all enjoyed spending time with her family.

In addition to her parents, she was preceded in death by her husband, Alexander James Grega; son, James A. Grega; daughter-in-law, Debra Grega; grandson, Sean Grega; two sons-in-law: Edward Hinkle and David Hatfield; and two sisters: Vivian Doucette and Wanda Dwyer.

Survivors include eight children: Susan Hinkle, John Grega (wife Jeanie), Jan Street (husband Terry),Charles Grega (wife Melissa), Joseph Grega (wife Misty), Kathleen Grega, Beth Hatfield, and Sandy Grega; 15 grandchildren: Eric Street, Ashley Hart, Luke Miller, Natasha Grega, Anthony Grega, Brittany Grega, Jeremy Grega, Tiffany Grega, Sara Grega Hamlin, Dalton Grega, Aaron Grega, Nathan Grega, Leah Grega, and Chelsea and Haley Hatfield; seven great grandchildren: Trey and Tyson Blalock, Brandon Bryson, Matthew Perez, Knox and Scarlet Hamlin, and Conor Grega. She is also survived by other loved ones and dear friends.

A funeral mass will be held at 2:00 P.M. Tuesday, December 22, 2020, at Sacred Heart Catholic Church with Fr. Michael Weglicki officiating. Burial will follow in Rest Haven Cemetery.

The family will receive friends from 11:30 A.M. – 1:30 P.M. Tuesday at Hart Funeral Home, located at 1011 Master Street Corbin, KY 40701.